Countdown Till Dad is Home From Work!
Countdown till dad comes home from being away for work!
Help the kids understand how far dad travels for work, draw the flight path to and from home and countdown the days until he is home.
Write a list of fun things to do with him (and mum can do this too!) and put a photo of dad on the magnet also.
The front of the magnet is a whiteboard, write on the magnet with a whiteboard marker and it will erase off when you wipe it off.
Magnet Dimensions: 25cm x 32cm
Bulk orders can be made and for orders over 20 magnets, discounts apply. Contact us to find out how.
Chloe's Story
Chloe was born in Port Hedland and her family moved to Perth when she was 5. Her daddy, Nay then started working on a FIFO roster. Chloe did not understand the great distance to Daddy's work and that he had to fly on an aeroplane and stay at the campsite with all of the other FIFO mummys and daddys. Chloe wa upset for a very long time, where was Daddy and why did he go away? Was Dad coming home?
Everything came to a head when Chloe refused to talk to daddy on the phone. Not only did this affect little Chloe but also mummy and particularly daddy while he was away working. He was providing for his family and his little girl was too young to understand.
FIFO Nay became very disheartened.
In order to assist Chloe and the family we developed the FIFO countdown fridge magnet! Now Chloe can't wait to hop on the phone to Daddy to tell him just exactly what she wants to do with him when he is home! On fly out morning Daddy and Chloe draw the flightpath to Daddy's campsite and they start the countdown together! Every night Chloe now (with the help of mummy) counts down the sleeps till Daddy is home and kisses him goodnight on his photograph.
28 January 2017

5.0

KiaSiobhan KiaSiobhan on 05 Aug, 2016 5 out of 5 stars A great idea and item. Perfect addition to any FIFO family home
Wrist Watch
View More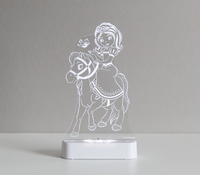 Aloka Sleepy Light
View More