Pre-Order now for a Mid-April delivery!
Countdown till you meet again.
Help the kids understand how a loved one travels for work, where they are based and what they do.
Write a list of fun things to do with when you next meet and put a photo on the magnet also.
The front of the magnet is a whiteboard, write on the magnet with a whiteboard marker and it will erase off when you wipe it off.
Magnet Dimensions: 297cm x 210cm (A4)
Bulk or Wholesale Order can be made and for orders over 20 magnets, discounts apply. Contact us to find out how.
To aid children with a family member in the defence force!
This magnet serves as a visual tool to explain where in the world your loved one is stationed, how long they will be away and what you plan to do together when you meet up next.
An eye catching addition to the family home, this whiteboard marker friendly surface allows you to alter details as you countdown.
Wrist Watch
View More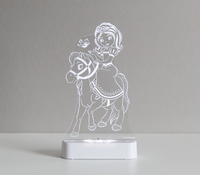 Aloka Sleepy Light
View More