Alarm Clock
RRP: $ 39.95

AUD
WOW... Learning To Tell Time Is Fun!
Encourage FUN learning with the Easy Read Time Teacher Alarm Clock. It makes learning EASY! Your children will learn to tell the time in 3 EASY steps, whilst waking up on time.
Easy Read Time Teacher Alarm Clock
What a fantastic learning tool for little creative minds. Learning to tell the time could not be easier with this brightly coloured and easy to read alarm clock.
Instructions come with the clock and learning to tell the time is achieved in 3 simple steps.
The Easy Read Time Teacher Wall Clock comes with a Rainbow face, or Red/Blue face

Please allow 2 weeks to arrive when stock levels are low.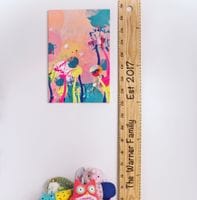 The Old School Personalised Ruler Height Chart
View More