The Personalised 'Loved Beyond Measure' Height Chart
RRP: $ 130.00

AUD
Are your loved ones, Loved Beyond Measure? Personalising this chart with your family name really makes the height chart that bit extra special.
Desktop users - Click on the stain and font options and a picture will appear to the left of that colour.
Mobile and Tablet users - click on the stain and font options and scroll up a picture will appear in the picture box.
Design Examples: (to add more individual names please contact us)
'Loved Beyond Measure The Gibson Family'
'Loved Beyond Measure Katrina & Claire
The Personalised 'Loved Beyond Measure' Height Chart
The perfect growth ruler to show your Loved ones how extra special and 'Loved Beyond Measure' they really are. This chart is measured in the metric measurements in the font of your choice to match. Loved Beyond Measure is laser engraved towards the centre of the chart while the personalised wording is engraved along the top of the chart. All height charts are a fantastic present that will hold treasured memories throughout the years.
Just want the saying on this chart? Checkout Grandad Pat's Loved Beyond Measure Growth Chart from our Classic Range.
Wooden Height Chart Information
Standard chart is made from a softwood and weighs approximately 5kg, measurements are in cm and read from 25cm to 208.5cm and the chart is 183.5cm in length
A permanent marker can be used to record heights on the chart
Charts are only for internal use and should not be hung in an area of extreme heat.
Due to the popularity and the time to make each individual ruler our manufacture time in 2018 has increased. Each ruler is individually produced and can take up to 30 days to manufacture. Manufacture time can potentially be longer during periods of high demand. The height chart is then dispatched via Courier, please provide a physical address for delivery.
Ships only within Australia
28 January 2017

5.0

Charlotte Caruso Charlotte Caruso on 02 May, 2016 5 out of 5 stars Cannot recommend this enough! Looks amazing and Aleisha went over and beyond with her service to produce and deliver this amazing growth chart. Makes a perfect gift!!

28 January 2017

5.0

Julia Kamerzan Julia Kamerzan on 30 Aug, 2016 5 out of 5 stars Thank you to Alicia for the gorgeous height chart! Absolutely beautiful stain colour and writing font. It looks very classy and is a wonderful addition to our home. I've recommended you to a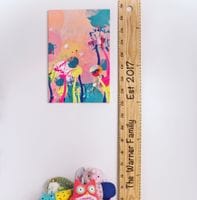 The Old School Personalised Ruler Height Chart
View More