Baby Keepsake Box- Name & DOB
Wooden Baby Keepsake Box
$45.00
This personalised keepsake box is a gift to cherish forever holding a little time capsule inside of when your child was a newborn. A perfect gift for a newborn and their parents, to hold those special first items in forever.
The box comes personalised with 2, 3 or 4 words and the date of birth (format 00/00/0000).
Box Dimensions: 20cm x 15cm x 10cm
Wooden Keepsake Box Features
This gorgeous engraved keepsake box is a perfectly unique gift idea for a baby shower or new parents expecting. A time capsule is a perfect way to keep treasures forever. Dimensions 20cm x 15cm x 10cm. The box comes with a sliding lid on top for ease of use and is very light (under 2kg). We can also do gift vouchers for this box, just contact us to organise.
Ships Australia Wide please allow 5 to 10 working days prior to dispatch for manufacture.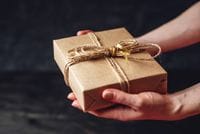 Gift Voucher
View More