The Original Height Chart
THE ORIGINAL HEIGHT CHART
FEATURED *** On the Story + Co blog. Read all about the best playroom ideas to help your youngsters learn and grow here http://storyandco.weebly.com/little-learners/montessori-playroom-reveal-0-2years
The Original Chart is measured in the metric conversion in your choice of font for both numbers and letters.
The Personalising for this chart includes maximum 3 words
Design Examples include:
The Hendersons
Somers Family
'The Somers Family'
'Katrina 6th March, 2016'
'Katrina, Alicia & Claire'
The Memento Height Chart is programmed to include 4 words for personalisation.
Grandad Pat's Original Height Chart
Looking for a meaningful present? Something unique and personal! Children's timber growth chart, the whole family will treasure for a longtime. This is a fantastic present that will carry treasured memories throughout the years. If you are looking to make an impact with a classic rustic twist, that also looks sensational when hung... this is it! Each growth chart is stained' engraved and branded with our Grandad Pat's Treasure Trove brand for authenticity. All charts are unique not only with the personalising but no two pieces of wood are the same and will all stain differently to a certain extent depending on the wood grain please allow for any slight stain variations. Charts are only for internal use and should not be hung in an area of extreme heat.
Prefer the Old School Ruler Design? Grandad Pat's has the solution, Our Personalised Old School Ruler Height Chart.
Wooden Height Chart Information
Standard chart is made from a softwood and weighs approximately 5kg, measurements are in cm and reads from 25cm to 208.5cm and the chart is 183.5cm in length
A permanent marker can be used to record heights on the chart
Charts are only for internal use and should not be hung in an area of extreme heat.
Due to the popularity and the time to make each individual ruler our maunfacture time in 2020 has increased. Each ruler is individually produced and can take up to 40 days to manufacture. Manufacture time can potentially be longer during periods of high demand. The height chart is then dispatched via Courier, please provide a physical address for delivery.
Ships only within Australia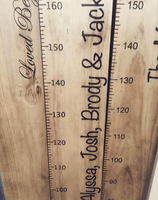 The Memento Height Chart
View More