Keepsake Box- Custom Images
Wooden Keepsake Box- Small or Large
**(Large Box PRE ORDER ETA 5 weeks)**
$60 - $80
This custom keepsake box is a gift to cherish forever holding a little time capsule inside of when your child was a newborn, a family time capsule or a gift for special occasions.
The box comes with fully customised imagery and wording. When ordering please detail what you are after and draft options will be emailed for approval.
Box Dimensions:
Small 20cm x 15cm x 10cm
Large 37cm x 28cm x 11cm
Wooden Keepsake Box Features
This beautifully engraved keepsake box is a unique gift idea for a baby shower or new parents expecting.
They also make wonderful Christmas Eve Boxes, Family Time Capsules, or Wedding Gifts.
A time capsule is a perfect way to keep treasures forever.
There are two size options to choose from.
The boxes come with a sliding lid on top for ease of use and are very light, made with quality pine. Not sure what a gift recipient would like engraved? Buy a gift voucher for them to order when ready.
Ships Australia Wide please allow 10 to 20 working days prior to dispatch for manufacture.
As this item includes customised imagery please ensure a valid email is provided to converse with draft options prior to engraving.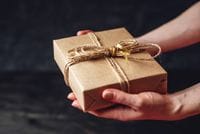 Gift Voucher
View More