Children's Art Engraved Gift
Have your child draw a picture using a dark texta and forward a clear copy via email after purchase. I will scan and arrange into a draft format before liaising with you for final approval prior to engraving.
Have a special art piece engraved onto a food platter, great as a Mother's Day gift, Grandparent's birthday, any occasion really.
Wording to suit your gift is incorporated into the final image. We will liaise with you and confirm final layout prior to engraving.
Example
Our Grandma is the best!
We *heart* you Mummy
Our Family
Dimensions: Vary dependent on avaialble platter / boards available. Reference image is 30cm x 30cm
Small (approx 20cm x 25cm)
Large (approx 30cm x 35cm)
This items is finished with a food safe oil, making it safe to eat off.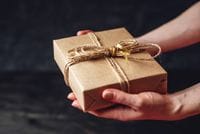 Gift Voucher
View More